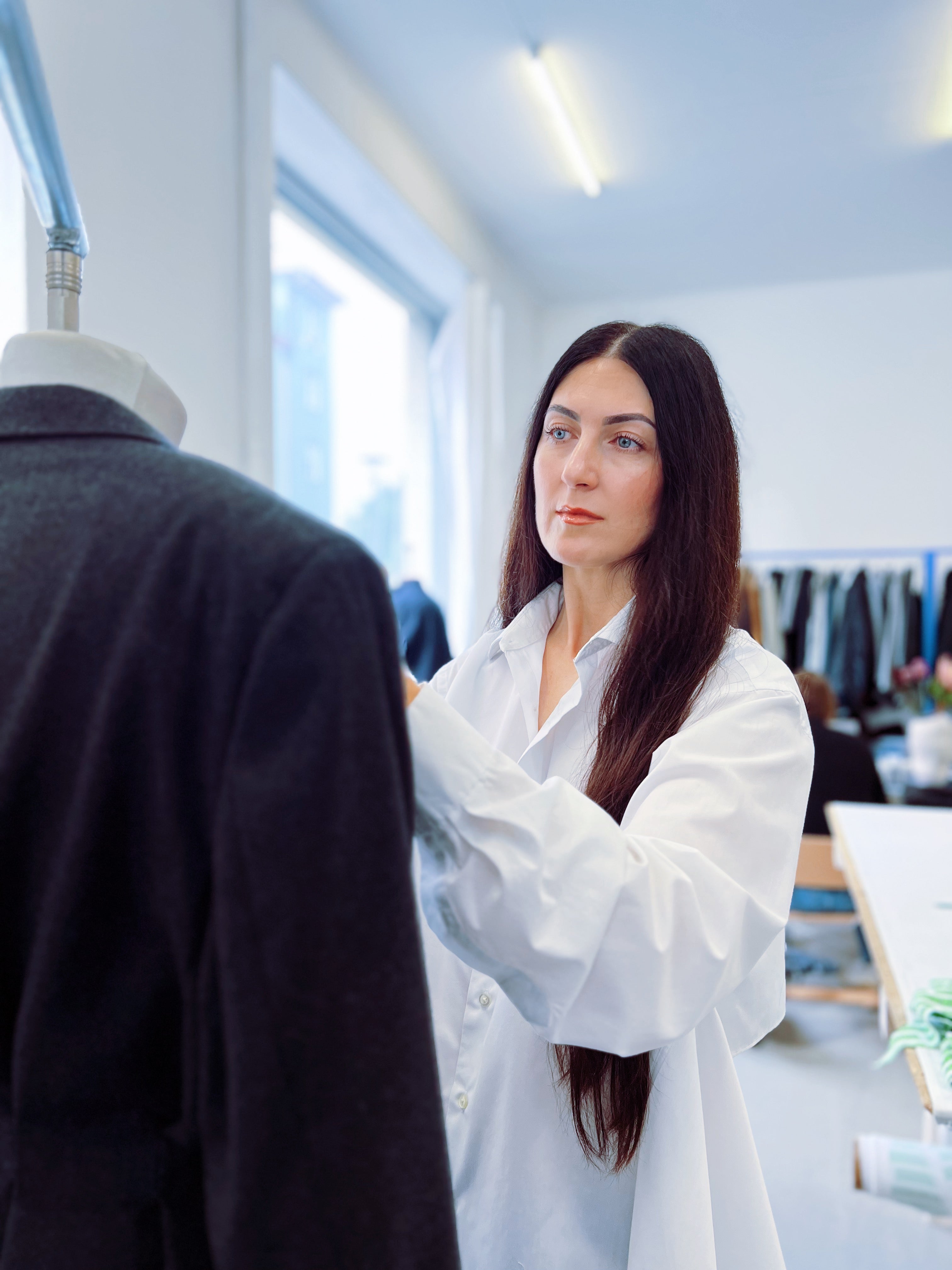 Head Seamstress
Zhanna Riabykh
Zhanna, could you please tell us a bit about yourself and how you ended up in Sweden?
I was born and raised in Ukraine, where I completed my schooling and university education, specializing in tailoring. Ever since I was a child, I had a passion for drawing and sewing. However, everything changed after February 24, 2022, when Russia attacked Ukraine. Faced with this hard situation, I had to leave Ukraine with my young daughter. That's how we found ourselves in Sweden. I'm immensely grateful to the people of Sweden and their government for their assistance during these challenging times.
How did you start your career as a
seamstress in Ukraine?
My mother was a seamstress, and she occasionally sewed at home. I developed a fascination for watching the sewing process from a young age. When I was six, I sat down at a sewing machine and began sewing, initially creating clothes for dolls, and by the age of ten, I was making clothes for myself. While I was studying at the university, majoring
in Computer Science, I secured a job at a sewing company. Following my
university graduation, I continued working in the sewing industry.
Could you describe a typical day working at Gemme Collective?
Every day at Gemme Collective is
dedicated to breathing new life into our products. It's always filled with new and intriguing challenges. I genuinely cherish my work.
What do you enjoy most about your job?
First and foremost, I have a deep
appreciation for our team. Additionally, I find great satisfaction in combining my personal passion for sewing with my professional role as a tailor, something I couldn't fully realize while working in Ukraine. In conclusion, It gives me great pleasure to see the realisation of the unique pieces of clothing we create every day.
And what do you enjoy the least?
Currently, I'm content with every aspect of my work!
What are the primary skills required to work as a seamstress at Gemme Collective?
Above all, patience, perseverance, a vivid imagination, and also inspiration are crucial skills that enable us to visualize the final outcome of our work.
Where do you see yourself in 5 years?
In five years, I envision myself still
working at a thriving Gemme Collective, surrounded by wonderful colleagues. I hope to continue living happily in Sweden with my family and have the opportunity to travel the world.
Which item from the first collection are you most proud of?
I am especially fond of several items
from our first collection. Among them is the blue blazer with pleats at the
waist, the white asymmetrical shirt, as well as the trousers and the short
leather skirt.
And just for fun...

First in the office or last to leave?
-I prefer to come first to start the day sooner!
Tea or coffee?
-Coffee, but only before afternoon.
Trousers or skirt?
-I like both, but due to convenience I will choose trousers.